There are two options to make a payment using your ACH/Banking information:
Important Information regarding ACH payments:
You do not need to Create New User Account or save the payment method in order to pay with an ACH Bank Transfer, however if you do create a user account, you can save the payment method for future use.
There are no additional fees to pay using an ACH/Bank Transfer.
It can take up to five (5) business days for the funds to be withdrawn from your bank account.
Important Note: To prevent automated debit blocking put in place by some financial institutions, before making a payment with your bank account, you may need to provide your bank with our Payee IDs. Click here to learn more.
Steps for adding bank account and routing number:
When viewing the invoice(s), in the Summary section of your checkout, select the Payment Method drop down menu.

The default is Credit/Debit Card but if you select those physical words, you can open the drop down menu.

Select "Bank Transfer (Account & Routing #s)" option
Select Account Holder Type (Individual or Business)
Enter Account Holder Name
Enter Account Routing Number
Enter Account Number (twice)
Click "Save Account" button
The Bank Account is now input and can be used to make a payment now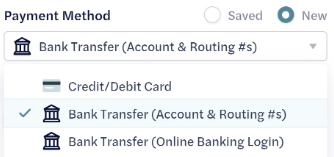 ----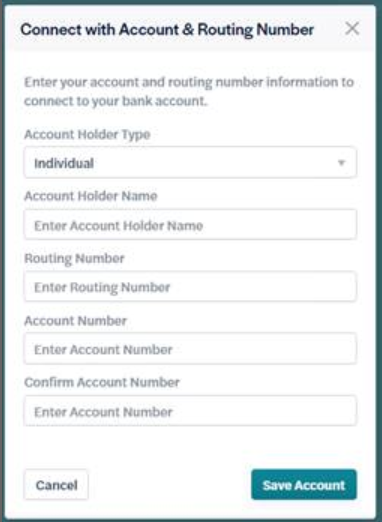 Steps for bank account sign in via Plaid:
This is a secure bank account connection through Plaid. Neither Aiwyn nor your Firm will see any of this secure information.
In the "Invoices" tab, navigate to your payment screen when inside the payment portal.
For "Payment Method," select "Bank Transfer (online banking login)".
Follow the prompts on the pop-up:

Choose your banking institution.
NOTE: You may need to use the search bar to locate your institution.
Input your username and password for your bank account.
Choose the specific account you would like to use.
NOTE: If your bank account is available through the Instant Match feature, you will be prompted to enter your routing and account numbers. You will not be asked this if your account is available through Instant Authentication.
Then "Agree to Terms of Service" and select "Pay" in the payment portal.
Additional Resources: